Online coupons appear on the WTD website and are available in a downloadable and printable format, like this: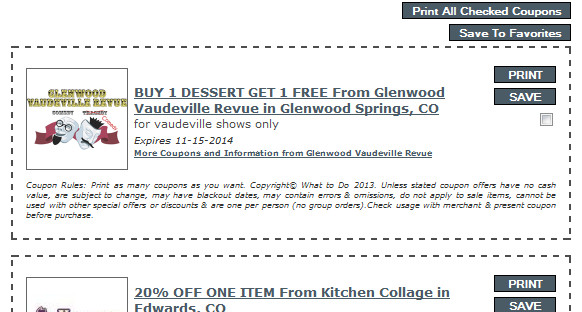 Because of these special formats, there are certain size and character restrictions that don't apply to other online items.
 From your Web Content Dashboard, click the button for My Coupons. You'll be taken to a grid with a roster of your Coupons. You can sort, search and customize this grid (link to grid section) just like other WTD grids.
NOTE: At any point, you may return to this grid page by clicking either "My Content Items" in the gray bar at the upper left of every page OR the box in the upper left corner of the form that says "Return to Items."

Creating a New Coupon
To create a new Coupon, make sure the correct resort is displayed in the grey bar above the grid next to the box that says "Choose Resort." Use the dropdown to change resorts, if necessary.
In the box that says "Choose Item" select Coupons.
Click the grey button that says "New Item."
A popup box will appear in which you will be prompted to "Select Business" (If you only have one Business with WhatToDo, it will appear automatically)
Type your "Coupon Title" and select dates on the calendar as the Start Date and Expire Date for the coupon.
---
A NOTE ON TITLES: Correct format: First Letter of Each Important Word Capitalized.
Tips:
• Keep the title as short as possible while accurately providing all key info. (You will have space to fill out the Coupon details and restrictions in the next steps.)
• Put the most important info first because the title may be truncated for size considerations.
• Do not use all capital letters, all lower case letters or intentional misspellings unless that is a recognizable characteristic of your brand.
---
Click the "Create New" button. A new, mostly blank form will open up for you to fill out.
Some of the key info in the form will be carried over automatically from your Business Profile. The fields you will need to fill in include:
Coupon Offer Details – Basically: Who, What, How much discount (i.e. 50% Off, Two For One, Kids Eat Free)
What To Do Standard Disclaimer – Appears automatically in all coupons. "Coupon Disclaimer: Print as many coupons as you want. Copyright © What To Do 2019 Unless stated coupon offers have no cash value, are subject to change, may have blackout dates, may contain errors & omissions, do not apply to sale items, cannot be used with other special offers or discounts & are one per person (no group orders).Check usage with merchant & present coupon before purchase."
If a business has its own disclaimer, that may be added to the WTD disclaimer or used in place of it.
Optional Coupon Code – If the business is using a system for tracking promotions you may may write the code here. Coupon code is not required.
Locations and Phone Numbers – Every Coupon MUST have at least one Active Location or the listing WILL NOT appear on the live website. The Location that appears automatically in this box is based on the info in the Business Profile.
If this is the correct Location for the Coupon, simply make sure the box at the far left of the Location is green and says "Active." If the box is red and says "Inactive," click it and it will change status.
If your primary business location is not the location for this Coupon, click the button on the right side of the Locations box that reads "Add New."

A new popup box will appear. You will need to "Select a Location" from the dropdown. This is a specific area/neighborhood/town within your resort area. Then enter the street address. City, state and zip will be generated automatically on the form.
Click the "Submit" button.

If the location that appears is mostly correct but contains an error, click on the "Edit" icon (the yellow square with the pencil image) on the right side of this field.
Revise the info in the popup box that appears. Click "Submit."
Category with Subcategory – A Coupon may have UP TO FIVE Categorizations but needs AT LEAST one to appear live on the WhatToDo network. More on Categories & Subcategories. 
When you have filled out the form completely, click the "View Coupon" button at either the top or the bottom of the form to preview how the Coupon will appear to potential customers on the WhatToDo network.
If you want to add a logo, click the "Next" button at either the top or bottom of this form to determine what logos appear with this Coupon.
NOTE: Because of size restrictions for Coupons, Logos are the only media that may be included, Please upload a hi-resolution print Quality logo for coupons when possible. Even though they appear online, customers will need to print them in order to present them, so Coupon logo files must be .eps, .pdf, .jpg, .tiff or native files from Adobe Illustrator (.ai) or PhotoShop (.psd). Must fit into an area that is 2.25" x 1.5" @ 300dpi or higher. However the media gallery functions the same way here as it does in other aspects of the WTD Admin.
Once you've edited and previewed your Coupon, make sure it is "Active".
---
 Coupon Tips
* The best Coupons are very simple, with as few words as possible.
* WhatToDo always prints a standardized disclaimer text detailing all restrictions on all of its coupons, so there's no reason for you to add this information under Coupon Offer Details. You can edit or add to it in the Disclaimer area if you'd like.