Banners are a type of online ad that appears at the top or the side of the websites in the WhatToDo network – not just on the pages specific to your company. For example, a visitor looking for kids' activities may see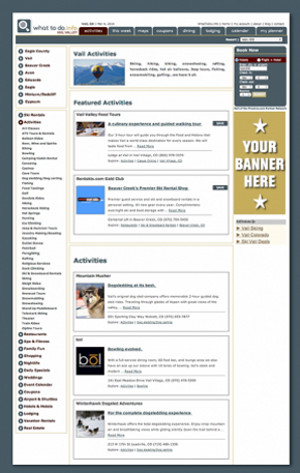 your restaurant listing and make their lunch plans as well. Banner ads run for 30 days or 20,000 impressions. Buying a banner ad is your least expensive and most effective form of web advertising. To purchase a banner, click here.
You may design your banner yourself or have a graphic artist design one for you. WhatToDo can be contracted to design your banner ad for an added fee of $75/hour.
Because they must share space with other website content, there are certain size and media restrictions for Banners:
          * 185×370 or 185×185 pixels in dimension
          * 72 dpi
          * Accepted File Type: png 
          * File size restrictions: 2mb
Once your banner meets all these specifications, send it to us at info@WhatToDo.info and we'll upload it to your account.
From your Web Content Dashboard, click the button for My Banners. You'll be taken to a grid with a roster of your Banners. You can sort, search and customize this grid just like other WhatToDo grids.
You can see past banners, view what's currently on our network and analyze your visitor stats to improve future web advertising.
Contact WhatToDo with any requests for changes to your banners.