As a WhatToDo client, you may have more than one Business entity advertised in our system (called "Businesses"). We create one account and login for you and create separate Businesses within that account. They are visible by clicking the "My Businesses" button on your Web Dashboard. The number on the right side of this button indicates the number of businesses you have listed with WhatToDo, so please make sure that it is correct.
Whether you have just one Business or many, they will all have a Business Profile consisting of the following pages: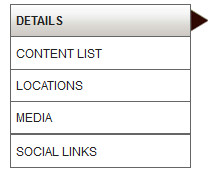 You will need to fill out or confirm the existing information is correct on each of the above tabs. You can move between these pages by clicking on the actual tab or by navigating with the "Next" and "Back" buttons at the top of the forms.
Details
Fill out Business Name, Business Display Name (how your name will appear on the website network), website, phone, email, country, state and General Business Description. If your business has different locations with different phone and email, you can enter that in the "Locations" page. Business "Details" should be your official, primary contact info.
Primary Contact and Primary Staff – our existing contact should appear automatically here. If the name that appears is not correct, click the blue text that says "Go To Staff Grid." Here, you can add a new staff contact (the person who will be in charge of updating and maintaining your business's info on the WhatToDo network) by clicking the button "Add New Staff."
Make sure that the resort or resorts you have paid to advertise in appear in the box "Resorts." If not, please contact WhatToDo.
Content List
The Content List is like your Table of Contents for your business info on the WhatToDo network. You'll see the total number of:
Activity Listings
Dining Listings
Coupons
Events
Banners
Specials
Vacation Rentals
"Active" items are things that are current and are visible on the live website, but you can also access all your past items in your "Inactive or Expired Content." This information is useful for reporting on your marketing ROI and planning future activities based on what has been successful or unsuccessful in the past. You can also reactivate expired content when you want to use it again.
From the Content List, you can change the "Active" status of your items without leaving the list.
You can view the item's complete info (and navigate away from this page) by clicking the item's title (in blue text).
Locations
Every Business MUST have at least one Location. If your business operates at multiple locations, please list each one separately.
The Location that appears automatically in this box is based on the info in your Business Profile. If this is the Location is incorrect click on the "Edit" icon (the yellow square with the pencil image) on the right side of this field. Click the "Submit" button.
To add a new location, click the button on the right side of the Locations box that reads "Add New."
A new popup box will appear. You will need to "Select a Location" from the dropdown. This is a specific area/neighborhood/town within your resort area. Then enter the street address. City, state and zip will be generated automatically. You will also want to add the specific email and phone number of this location. Then click "Submit."
You can also place your listing so it shows up where you want it on the map. You do this by clicking the map thumbtack button in the green box, then dragging the pin to map location you choose.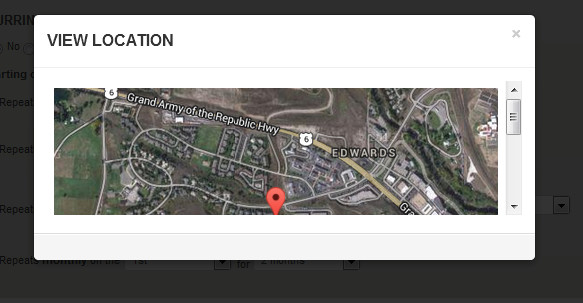 Media
In the Business Media page you can upload or select logos, images and videos that will be available for use in any of your listings. You can also add media to individual items (Listings, Events, Coupons) directly in those pages, but they will be available to that unique item.
Please view the Media Instructions page for more information.
Social Links
This functionality is under construction. For now, WhatToDo actively promotes all its clients on Facebook at:
Please "Like" us on each of these pages for us to be able to promote you through social media.
---
Follow us on LinkedIn!
---
On Twitter at:
Please "follow" us on each of these pages for us to be able to promote you through social media.