NOTE: Anytime your return to the WhatToDo plugin in your WordPress dashboard and change your settings, it will NOT update the info already on your site. It will only update future info imported. To change how these things appear with the content already on your website, you will need to go to the WhatToDo plugin's "General Settings."
Under "General Settings" is a black menu item "Advanced Settings." Select it.
Choose "Delete All WTD Imported Data." This will delete your old settings and data and do a new import with your new settings. A full import of the WhatToDo feed, takes some time and is a drain on the server, so we recommend doing this process only when necessary.
After making these changes, please clear your web browsing cache so that the newest version of the page is allowed to display.
---
If you already have a plugin version installed, and it is malfunctioning, you may be directed by WhatToDo support staff to delete the plugin and install the newest version. This is not routine updating, and you should rarely – if ever – need to do this. If you are directed to by WhatToDo or your company's website manager: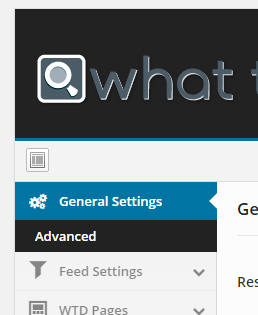 Go to "General Settings" and copy the Client Key.
Go to WordPress menu item "Plugins."
Find the WhatToDo plugin on the list, click "Deactivate" then click "Delete."
Once you have deleted the plugin, download the newest version from WhatToDo and install it in your WordPress site, then activate it.
The first thing you will need to do once it's installed is a Hard Data Reset.
Go to the "What To Do" menu item in the lefthand WordPress menu.
Go to the "Advanced" menu item under General Settings.
Choose your website's resort area and click "Save Changes." You will then have to go through the same process of creating your feed account settings that you did the first time.