Every Business in the WTD system is under the "ownership" of a Client. This is important for Clients that advertise more than one Business with us. There have been numerous times when it was strategic to have an unpaid Business on our website and to avoid the added step of creating a Client, we entered the Business under a client name, such as "Summit Free Vendors" or "WTD Controlled". If that Business later needs access to their items/dashboard (either as a paid advertiser or free events member), you'll have to create a Client for them and transfer the Business to the new Client. DON'T create a new Business, as this will result in confusing duplicates in the Admin.
Additionally, there are times when a paying Business changes ownership or hires/changes marketing companies when it will be necessary to transfer the Business to a different Client.
Go to Client Dashboard and create a Client if none exists yet.
Go to Web Dashboard, and select button for "Business Info & Locations" to bring up all Businesses in that Resort.
If the Business is currently Active, set the YUI grid to "Active." If it was formerly Active but not anymore, set the YUI grid to "All." Type a keyword from the Business name in the Business box and hit "Search."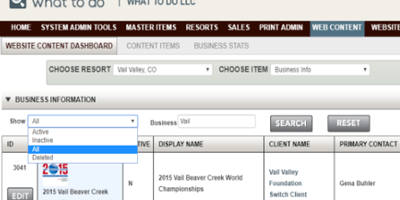 In the column of the YUI grid marked "Client Name," you'll see the option to "Switch Client." Click that.
A popup box will appear advising you to choose a new client. Click the dropdown list and choose the correct client.